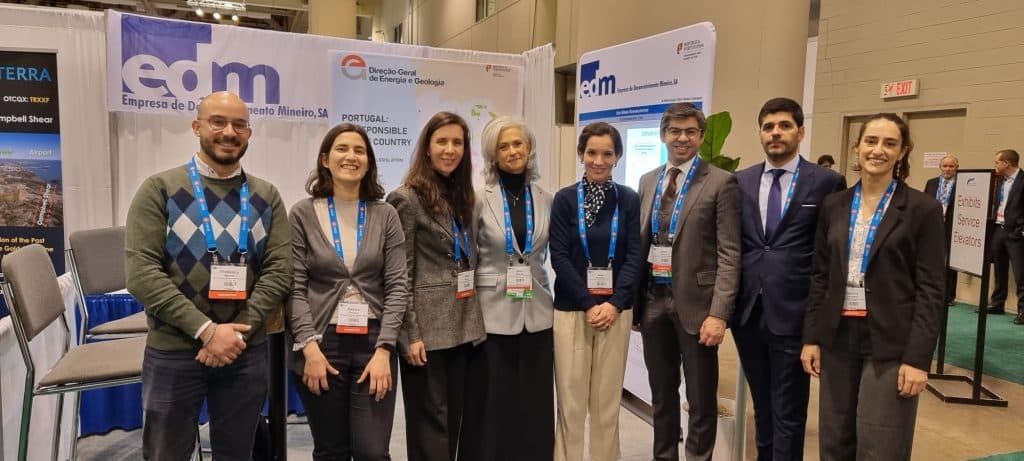 EDM and DGEG were present in PDAC 2023
The event was also visited by the Secretary of State for Energy and Climate, Ana Fontoura Gouveia.
EDM – Empresa de Desenvolvimento Mineiro, S.A. (EDM), together with the Direção Geral da Energia e Geologia (DGEG) were present at the Prospectors & Developers Association of Canada (PDAC) 2023, considered the world's largest exhibition in the Geological Resources sector.
Held in Toronto, between March 5th and 8th, the PDAC 2023 convention is a unique event that makes it possible for governments, mining authorities, companies, service providers and organizations linked to this sector of activity, to come together worldwide.
For this purpose, the Portuguese participation revealed the works developed in the national territory, leveraging and enhancing partnerships and investment. These concern the areas of intervention and environmental remediation, mineral prospecting, as well as identification and valuing of geological resources knowledge. Simultaneously, the current mining concessions and potential areas to be included in the next public tender for lithium research, were also introduced to the audience.
Portugal was also represented by the Secretary of State for Energy and Climate, Ana Fontoura Gouveia.
Ana Gouveia took part in the International Summit of Ministers of the Mining Sector, included in PDAC 2023 and, accompanied by the Consul General of Portugal in Toronto, Sofia Batalha, also had the opportunity to visit the EDM exhibition and stand, where she met with representatives of Portuguese and international companies and organizations active in the mining sector in Portugal.
The continuous success, combined with its inherent importance, offered PDAC 2023 edition 23,819 participants and 1,100 exhibitors, from more than 130 countries, including investors, executives, geologists, government officials and students from all over the world.
As a final remark, the national participation in this event, proved to be once again an excellent opportunity to promote the activities of Portuguese institutions as to show the full potential of the mining sector in Portugal.