Beginning of a Drilling Campaign in Escádia Grande
In the area known as Escádia Grande, where EDM holds prospecting and exploration rights, on 11 July, an initial survey was carried out to investigate the potential of gold mineralization in the mine, which operated until 1950.
Contract no MN/PP/009/14, has a duration of 3 years (2014-2017), with the possibility of two extensions of 1 year each. The area covers the municipalities of Góis, Pampilhosa da Serra, Castanheira de Pêra, Arganil and Pedrogão Grande, with an area of 252.75 Km2.
Throughout the exploration area, minerals of two types are known: stannous-tungstiferous (Sn-W), auro-argentiferous (Au-Ag) and auro-antimonic (Au-Sb).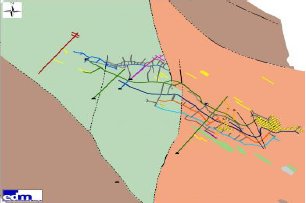 Former mining works
In the Escádia Grande mine, the subject of this drilling campaign, gold mineralization occurs in vein structures with a tabular to lenticular morphology in a general N30º-55ºW direction, inclination variable between 50º-60ºSW and thickness between 0.50-0.70 m.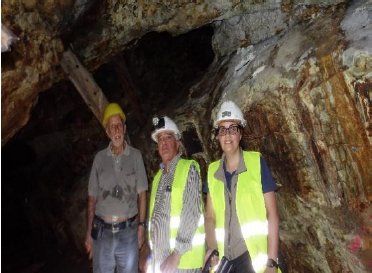 Steep seam inside a gallery on the 2nd floor
The objective is to conduct a detailed investigation into the morphology of the mineralized system, as well as the lateral extensions and depths, with a view to modelling a geological target, which could constitute a mineral resource with secondary works in the near future.
The campaign foresees the execution of 7 surveys over a total area of approximately 1,500 metres.